In 2013, out of thousands of UPS Authorized Shipping Outlets nationwide, we were honored to be awarded a Top 100 designation!
Our expertise, your assurance!  Another Plus from Parcel Plus in Arlington, VA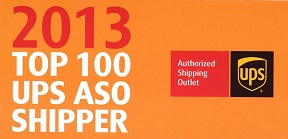 DHL Shipping
DHL has an strong presence for international shipping, especially to countries throughout the Mideast and Asia. Serving over 220 countries, DHL shipping is a trusted carrier who has earned the following awards among others:
Reader's Digest: Asia's most trusted brand in Airfreight/Courier category
Air Cargo Week: International Express Operator of the Year
Hitachi Data Systems: Logistics Partner Excellence Award
ITP, the largest business and consumer magazine publisher in the Middle East: Logistics Provider of the Year
Frost & Sullivan ASEAN Transport & Logistics Award: Best Express Service Provider for Indonesia, Malaysia and Thailand
When you ship your package or envelope with DHL shipping, you're working with a leader in reliability and dependability.
All DHL shipments come with tracking, proof of delivery and basic declared value insurance starting at $100. Parcel Plus offers DHL shipping as part of the service to offer customers the choice in carriers.
Compare shipping rates with DHL along with UPS, FedEx and the USPS to determine which carrier serves your needs best. DHL often is the preferred carrier for international shipments by many of our customers.
So try our DHL shipping services today. If you have questions, please don't hesitate to call us at (703) 752-1888 or vist our store in Arlington for more details. We are located in the Lee Harrison Shopping Center. Click Here for directions.
Mobile Notary Services
Do you need some documents notarized? We can come to you! Call us anytime during business hours and we can have a knowledgeable and experienced notary come to your location in minutes!  We service areas within 5 miles of Arlington Parcel Plus.